Start your own Coffee Brand.
Our team will build you an automated online coffee brand with your own desired branding.

Click get started now to secure your slot before it's too late. Our team will build your store for you on Shopify and hand it over to you.

Store Setup Within 24 Hours
Logo & Graphic Design
Domain with FREE SSL certificate
Unlimited Graphic Design*
Unlimited Store Revisions*
Don't like our demo store? No problem! We can work with you to build a store to your exact liking. Here are a couple examples of other designs we can do;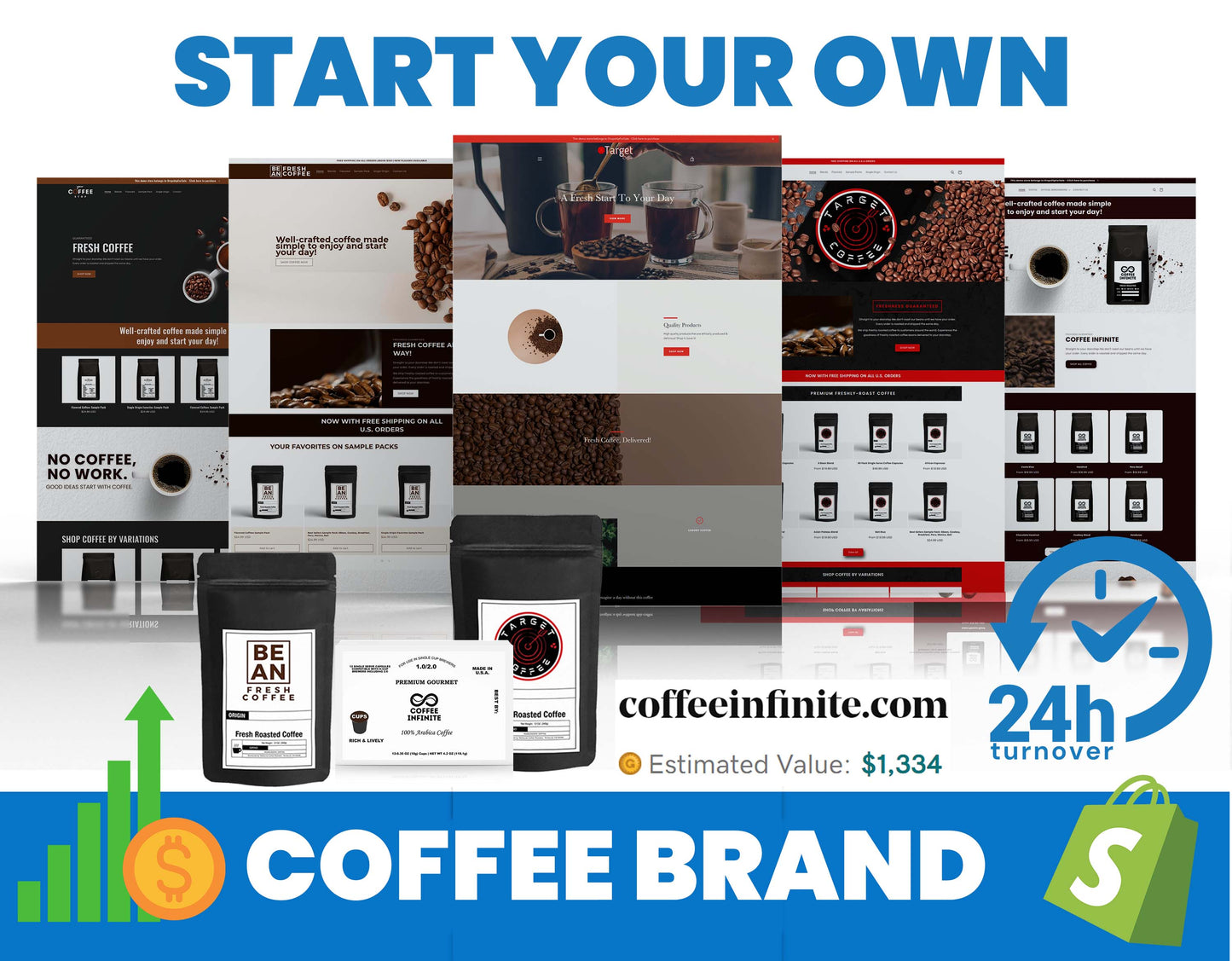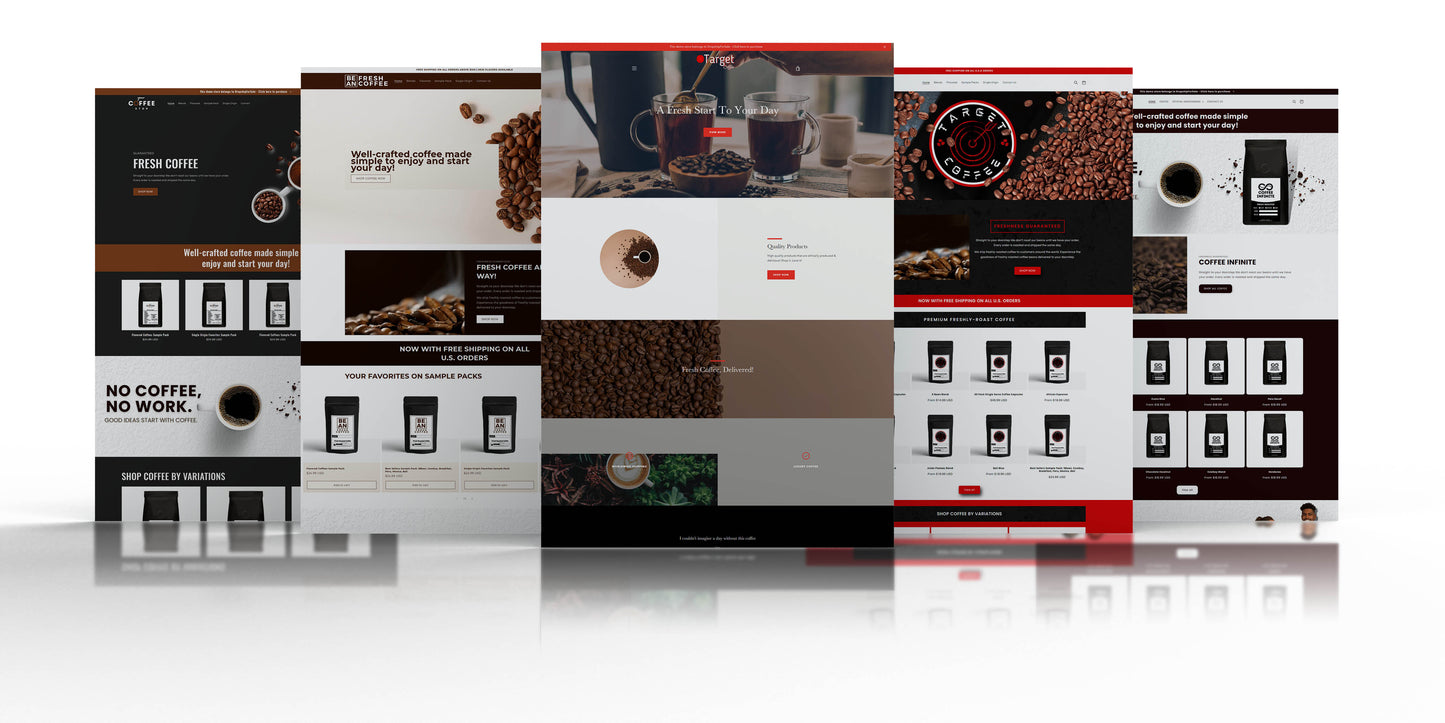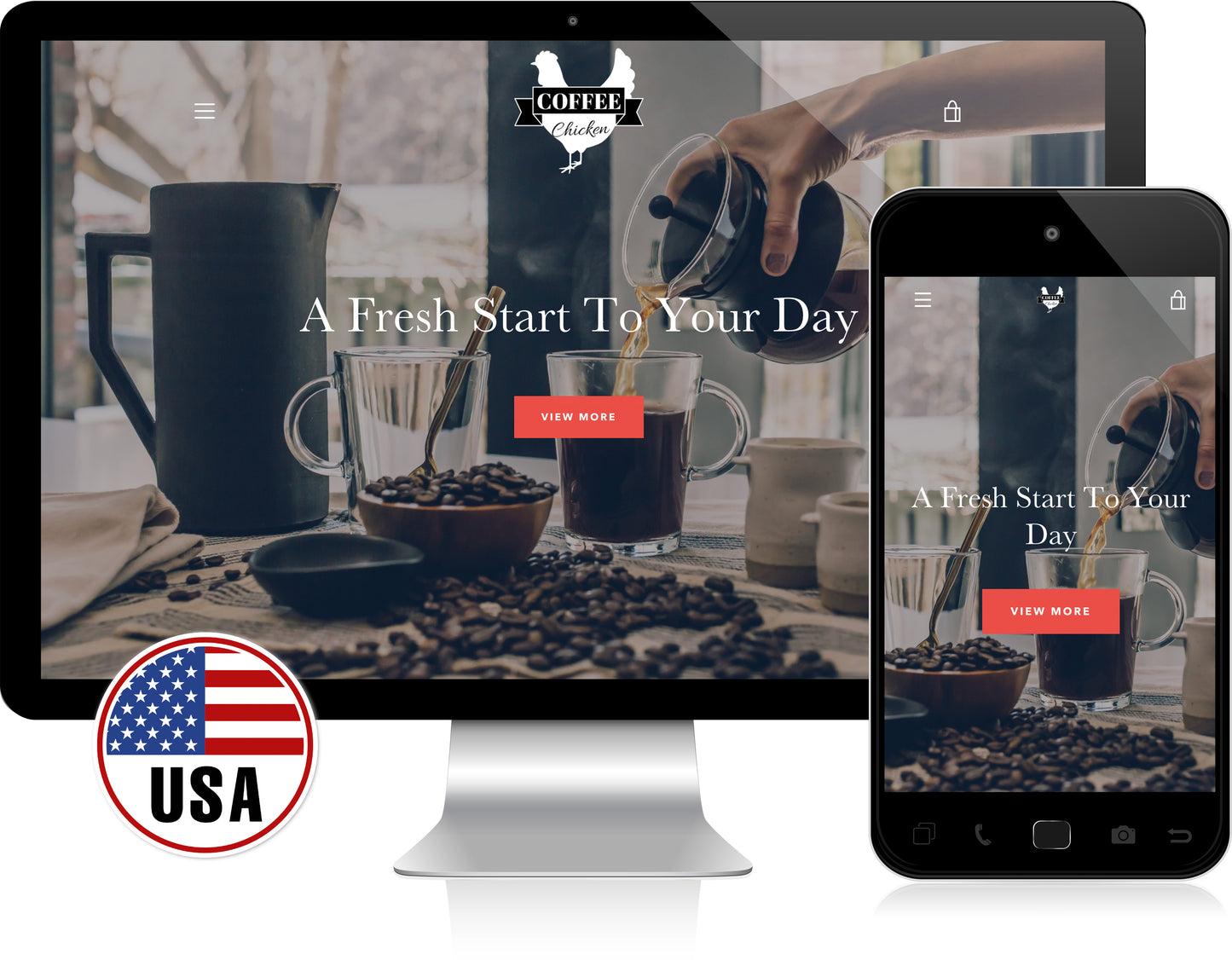 Introducing the ultimate coffee brand setup service!
Get your coffee brand up and running in just 24 hours with our Shopify store setup. You'll get everything you need to get started, including a custom-designed logo, a domain of your choice with free SSL certificate, and premium support from our expert team.

Our team will also customize your product packaging to give your brand a professional touch. Not only that, but we'll also fill your store with high-quality products sourced from trusted suppliers. And if you want to try a different niche, you can choose from any of our available templates with an active membership and we'll build it for you, with no extra cost.

We understand how important it is to have a store that you're proud of and that's why we offer unlimited store revisions so that you can make changes as many times as you want. Don't miss out on this opportunity to start your own coffee brand. Click "get started now" to secure your spot and let us take care of the rest. Get your store up and running in no time, with the peace of mind that comes with our 24-hour setup guarantee!
Start A Coffee Brand For Only $99

Unlimited Store Design
Change your store design or niche at anytime. Just submit a request and our team will work with you to revamp your store. Sell coffee, cosmetics, clothing, shoes, vitamins, supplements and so much more. All included in your membership.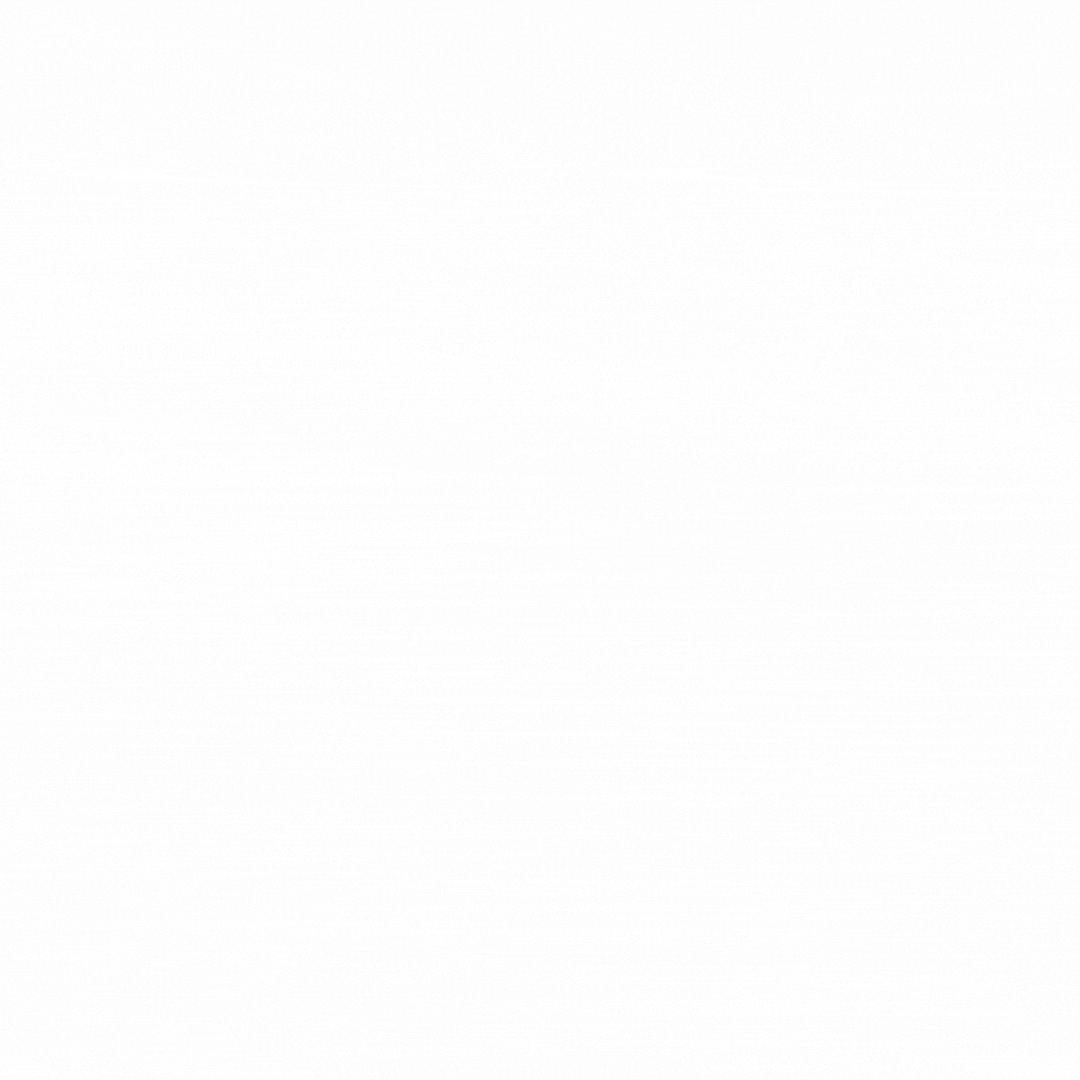 Unlimited Graphic Design
Social Media ads, website graphics, logos and so much more. Just submit a request & our team will deliver your custom designs within 24 hours.
Here's what you get:
✓ Design & Setup Your Store and Logo For You
✓ Register & Install a .com Domain of Your Choice
✓ Customize your Product Packaging
✓ Fill your Store With High-Quality Products Sourced from Trusted Suppliers
✓ Premium Support & Coaching
✓ Unlimited Store Revisions
Physical Coffee Store vs Online Coffee Store

A physical coffee store can cost anywhere from $80,000 to $300,000 and that's before you even make any sales. An online coffee store can be started from as little as $135/month. Never risk your money by purchasing large quantities upfront. Never waste time looking for a place to hold your inventory or worry about packing orders to ship out. A dropshipping business takes away all the operations so you can focus on making money through sales and marketing. It is simple... you sell it, we'll take care of the rest.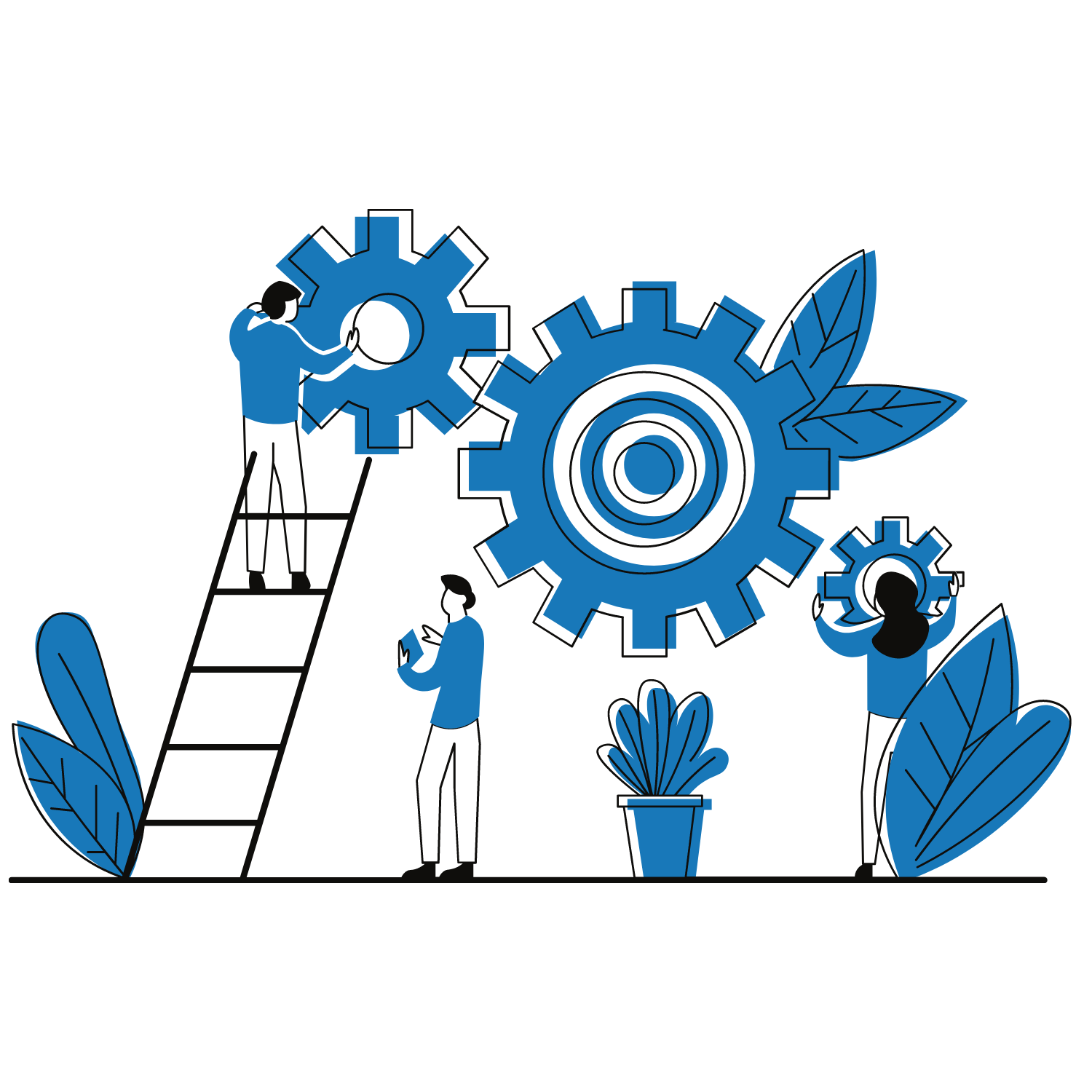 What are the monthly fees for this store? 
$99 one time fee for the Shopify store setup
$1 per month for Shopify Subscription for the next 3 months
$30 per month for the supplier (supplier integration)
Don't fancy our demo store design? No problem! Our team can work with you to build the store of your dreams, for no additional cost. Just place your order today and let our team know that you want a custom store design!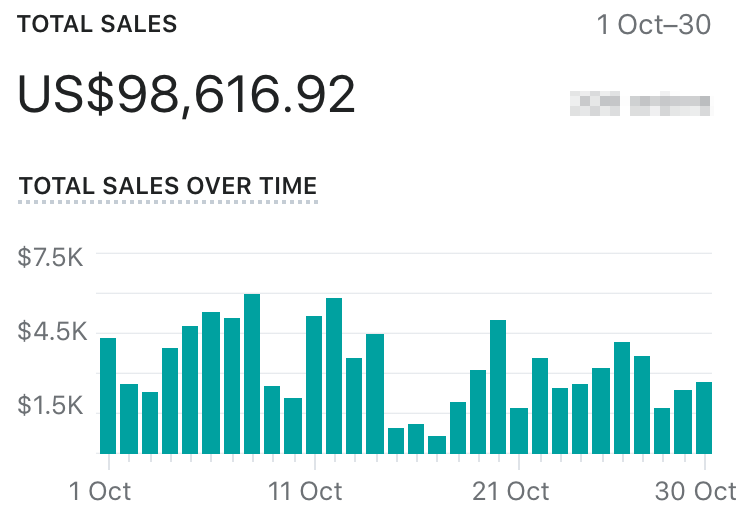 Barbara's Story.
"I highly recommend DropshipForSale. They helped me launch my store. In October 2021 my store almost did $100,000 in sales. If you're wondering whether or not you should give it a go, just do it"
Frequently Asked Questions 
About the Process

1. Where do you ship?
We ship orders worldwide.

 

 

2. What are your shipping times?
We have a daily pick-up from USPS at 2pm Central Time and a UPS pick-up (Monday through Friday only) at 3pm Central Time. In stock orders are generally shipped within 1 to 3 business days.

3. Do you accept returns?

Returned coffee is not accepted as it is a perishable item, unless there was an issue such as a damaged delivery. Any express shipping where applicable is not refunded. Express shipping is Next Day Air, 2nd Day Air, 3 Day Select and other overnight or express shipping services that may have been requested by you. Ground shipping is not refunded unless our shipping department was at fault and your order arrived damaged.

Time is of the essence. If you receive your order and notice the order is damaged you must contact us within 48 hours for an exchange. No exchanges or returns will be accepted after 48 hours.

4. What if the order never arrives to the customer?

If the item was never delivered we will verify status through the shipment tracking number. If the tracking number shows delivery we will not refund the order total or offer a replacement. For further information on this policy please review our Terms & Conditions.

5. How long is coffee good for? Does coffee expire? How to make it stay fresh longer?

That depends on what type of coffee you have. All coffee should be stored long-term between 50 and 70 degrees Fahrenheit, at about 30 to 50 percent humidity. If you have green coffee beans they should be stored in the open air (for example, burlap bag) and are good to roast for 2 to 4 years, depending on humidity. Keep them dry and away from water and sunlight. Roasted coffee beans should be kept in an air-tight container, as well as ground coffee. You can store roasted coffees without much flavor loss for about a year unopened, or 2 years in the freezer. Coffee is still good past these dates if kept properly, but flavor fades away quickly over time. Once you open roasted beans or ground coffee you should plan to use it up within a week for the best flavor. That is why it is always best to buy small amounts instead of 5 or 10-pound packages.

6. Will my customers know the products come from a supplier?

No, all products will be shipped with your company logo and name.

7. Do I need to have a credit card on file to sell your products?

Before we fulfill any orders, you will need to have a valid credit card on file. Until then, customers will be able to place orders, but we will not ship any orders until we have a valid card on file.
Also, if a payment fails after a valid credit card is put on file, that merchandise will not ship until a valid payment method has been updated and the merchandise has been paid for.

8. What are the shipping costs for your products?

International shipping charges are based on weight and are the least expensive option via USPS(United States Postal Service). We do not charge for shipping to the USA.

9. What is the average shipping time when a customer places an order?

Orders ship within 3 business days and are shipped via Ground.

 

10. How can I contact my coffee supplier?

When you receive your online store, you can contact the supplier via live chat.

 
Will my customers know I am dropshipping?

No, each of your customers will only see your brand & logo with no indication that it came from a dropshipping supplier. It looks like it came directly from you!
What payment methods can I accept?

Allow your customers to pay for products on your site with their Credit/Debit Card or PayPal. If a customer chooses their card, the funds will be transferred automatically to your bank account.
Can I run this store outside of the US?

Yes! You can run this store from anywhere in the world. USA, Canada, Europe, United Kingdom, Asia, Africa, UAE, Your Local Coffee Shop, The Moon - it doesn't matter where you are! We also have a UK based supplier, so if you're based in the UK, we will use that supplier for your store.
I want to sell something other than coffee, can you help?

Of course! We have over 20 different store niches available. You can sell everything from cosmetics to vitamins, clothing to handbags and everything in between. See our entire list here.